Rain jacket for (ground)water
If you invest a lot of money in a new product, you want it to last a very long time. Of course, this also applies to a prefab inspection pit. That is why we have it preserved by the professional, Van der Griend Spuiterijen, with us in Lopik. This way we know that it is done properly and that it is certified.
Van der Griend has specialized for more than forty years in the preservation of products that are exposed to harsh conditions, also for the offshore. They know better than anyone which system they can best use for our product.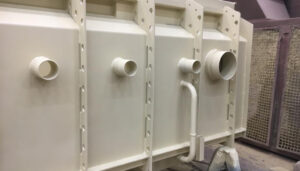 Tony van der Griend, owner: 'The right preservation system for this product is of course extremely important. Both the inside and the outside are exposed to tough, but also different conditions.'
The treatment
Every pit that enters Van der Griend is therefore first blasted completely . The surface is thus cleaned of residues and mill scale using steel grains. In addition, this creates a perfect surface for the coating system to adhere to. Then all the gaps and slits are sealed thickly.
In the next step, the pit is completely covered in the two-component zinc phosphate primer based on epoxy. This hardener is very suitable for atmospheric industrial and sea climate applications.
After this layer has cured, the outer layer can be applied. Sigmashield 880 from PPG Coatings is applied to the outside. This two-component coating has been developed for the most severe conditions , such as offshore and dug-in products. Fluctuating groundwater levels or rough contact is what the coating is designed for.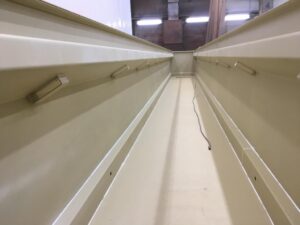 A high-quality PU coating is applied on the inside, which is extremely resistant to water, oil and grease. In combination with the two-component zinc phosphate primer, the pit is protected for a long time and is also very easy to keep clean.
Finally, Van der Griend applies a non-slip layer to the floor of the pit. In this way, the customer is assured of a safe well that will last a lifetime!